Bassing Big Bend: Massive Reservoir Still Consistently Producing Big Bass
Article & photos courtesy of blog/globaloutdoors.com and John N. Flesher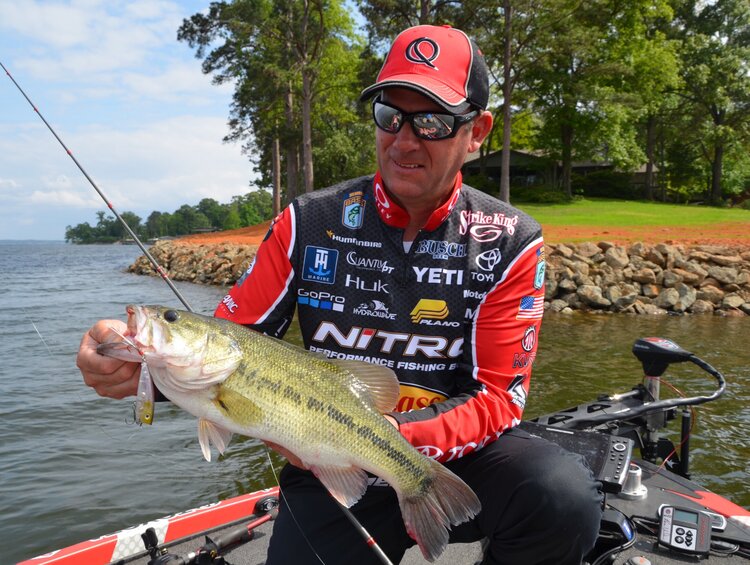 Ask largemouth bass enthusiasts to name their bucket list waters, and many would undoubtedly rank Toledo Bend Reservoir high on that list.
The largest reservoir in the South covers about 185,000 acres. It runs 65 miles along the old Sabine River channel spanning the Louisiana-Texas line. With numerous creeks and coves, the massive impoundment offers anglers 1,264 shoreline miles and drops to more than 110 feet deep in places.
Always an excellent numbers lake since it opened in the 1960s, Toledo Bend gained a reputation for producing double-digit bass after both Texas and Louisiana began heavily stocking Florida largemouths into the system in the 1980s. Floridas grow larger and faster than native northern largemouths.
"Toledo Bend has become one of those destination places for people who want to catch a 10-pound bass," commented bass pro Darold Gleason with Darold Gleason Fishing (337-397-8860, gleasonfishing.com) who also guides on the lake. "It's one of the best public bass lakes in the nation. On any cast, someone might catch the bass of a lifetime."
Frequently, the biggest lunkers come from the southern third of the lake because Texas biologists often concentrate their stocking efforts in Housen Bay and Six-Mile Creek. Other top big bass honey holes include the Indian Mounds, Indian Creek, Mill Creek, Pirates Cove and Sandy Creek.
Anglers can catch lunker largemouths at Toledo Bend anywhere at any time of year, but for the best action on giant bass, fish in late winter or spring. In early January, bass start moving into their staging areas in twelve to fourteen feet of water near grassy edges, drop-offs, and main lake points.
After staging, bass move up toward the shorelines from late January through March, depending upon the weather. Bass use little ditches to move up onto the spawning flats and banks. If anglers can intercept them along their routes, they might put some whoppers in the boat.
Spawning might start in mid-February at the northern part of the lake and continue into early June. Peak spawning activity usually occurs during the full moons in March or April. However, on a lake as long and massive as Toledo Bend, fish don't all spawn at the same time. Even in the same cove, anglers could find pre-spawn, bedding, and post-spawn bass at the same time in the spring.
During spawning season, look for big bass on shorelines and secondary points. Cypress trees and brush standing in two to four feet of water create excellent spawning areas, particularly in the 1215 area on the Louisiana side of the lake just north of Pendleton Bridge. Highway 1215 once traversed this region. Much of the old roadbed still exists on the lake bottom, and it is bordered by small ditches on either side, which also make good routes to the spawning grounds.
"February to May is the best time to fish Toledo Bend for both size and numbers," Gleason recommended. "A lot of people fish the 1215 area just above San Miguel and Patroon Creeks. In February, I throw lipless crankbaits. As we get a few warming trends and the water temperature rises, fish move to the banks to spawn. That's when people need to throw wacky worms, go sight fishing, or flip cover."
During the spring, Toledo Bend bass feed heavily on crawfish. Many anglers flip flooded brush with jigs tipped with tubes, craw worms, or creature baits that resemble crustaceans. Anglers also run red Rat-L-Traps, crankbaits, or spinnerbaits along cover edges. Hot colors include red, red and gold, red and chartreuse, or red and black.
"Red spinnerbaits are big in the South because crawfish are such a vital forage species for bass," explained Kevin VanDam, a four-time Bassmaster Classic champion. "Bass are tuned in to eating red crawfish."
As temperatures rise, big bass seek cooling comfort and an oxygen boost in thick weeds. Rigged with a 3/0 to 5/0 wide gap hook inserted into the body, a plastic frog sputters across the thickest bass-holding cover. Some good areas to fish at the northern end of the lake include the Blue Lake area between San Miguel and San Patricio creeks and around the mouth of San Patricio Creek. 
"The post spawn is a good time to catch good numbers of fish," Gleason recommended. "The shad spawn is usually going on from late April to early June. People can catch a lot of fish on topwaters or shallow-running crankbaits around a shad school. In the summer, we're chasing fish around the shore with topwaters or fishing deep-water structure with crankbaits, jigs, and Carolina rigs."
During hot months, fish the deeper channels off main points with shad-colored crankbaits, big Texas-rigged worms, jigs or Carolina rigs. Anglers find the deepest water down by the dam, a good place to vertically jig spoons or work drop-shot rigs.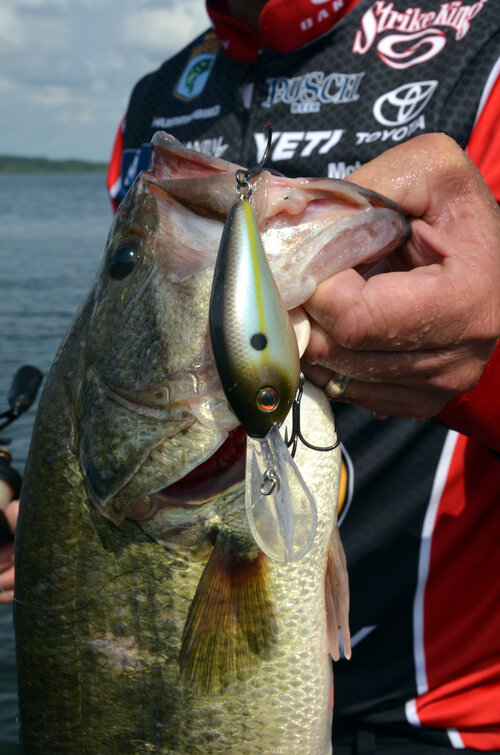 "Crankbaits are efficient tools for covering deeper water," VanDam advised. "During hotter times, that's where many bass live on most lakes. When working deep-running crankbaits, people need a reel designed for power with a wide spool that holds a lot of line so they can make long casts. I like a reel with a lower gear ratio, something like 5.3:1 ratio, with fluorocarbon line for working crankbaits. Fluorocarbon is lower in stretch and gives the angler better sensitivity. It also sinks, so it helps baits run deeper."
In the fall, bass follow the shad as they head up the creek channels and into the flats. In the right spot, anglers can find schooling bass attacking shad. Throw shad-colored topwaters or lipless crankbaits into the commotion.
Since Toledo Bend spans the Louisiana-Texas line, anglers can fish from a boat with a license from either state. For Texas license information, see HERE, for Louisiana, see HERE.
The Toledo Bend Lake Association offers lunker reward programs for people who catch big bass. Also, Texas Parks and Wildlife operates a similar ShareLunker Program
On either side of the lake, visitors could rent cabins, RV spaces, rooms and campsites or find other accommodations.Toledo Bend is fantastic for fishing, but is also a wonderful tourist destination in its own right. After catching the bass of your dreams, stick around and enjoy what Toledo Bend has to offer.
Originally from Louisiana, John N. Felsher is a professional freelance writer who lives in Semmes, Ala. An avid sportsman, he's written more than 2,900 articles for more than 157 different magazines on a wide variety of outdoors topics. Follow him on the internet. He also hosts an outdoors tips show for WAVH FM Talk 106.5 radio station in Mobile, Ala. Contact him at j.felsher@hotmail.com or through Facebook.